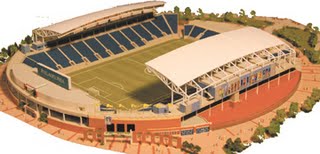 Nick Sakiewicz has a message for the die-hard band of soccer zealots who call themselves the Sons of Ben, SOBs for short.
He has heard your cries.
Sometime this weekend the boss of the Philadelphia Union, the region's newest entry into professional sports via Major League Soccer, will unveil a web cam on the team's Web site where fans can monitor the day-to-day development of the stadium being built under the Commodore Barry Bridge in Chester.
And it is being built. I can now vouch for that personally. Yesterday I had the opportunity to sit down with Sakiewicz and his team, and also get a first-hand look at the construction site. Yep, that's a stadium all right.
I got the distinct feeling in talking to Sakiewicz that he was more than a little exasperated at how long it has taken to get the Web cam up and running at the Chester site. You get the distinct feeling in talking to him that Sakiewicz believes in dealing with issues head-on and that he's not all that enamored of any hiccups along the way.
Speaking of glitches, there is one large one looming on the horizon, a bit of bad news that followed the welcome addition of the web cam.
Sakiewicz confirmed that he does not expect the team, which will begin play in the MLS next spring, to play its first game in the Chester stadium.
Last week the team announced it was considering alternate sites.
Basically it looks like the Union's first home game will take place at either Franklin Field or Lincoln Financial Field in Philly.
The stadium project team is operating under an incredibly tight timeline through the winter and into next spring. They are still working out details with MLS officials in terms of possibly scheduling the team's first few games on the road and a few other possibilities.
I'll have much more on my visit with Sakiewicz – including another message he has – this one targeting all the naysayers who believe soccer will never make it in this area, in my Monday column.
For now, look for that web cam sometime this weekend at philadelphiaunion.com.