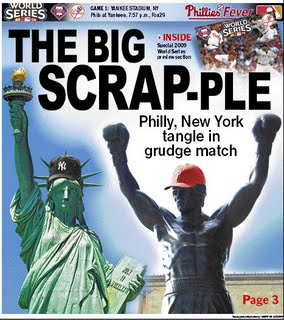 If you think this whole World Series thing feels like it's been cranked up three or four levels from last year's frantic pitch, you're not alone.
I can tell you why in two words: New York.
Specifically, the New York Yankees.
Yes, no one will ever mistake George Steinbrenner's Evil Empire with the Tampa Bay Rays.
The Phils now will find themselves defending their World Series crown in the center of the media universe.
That's why you saw Shane Victorino in a skirt on the front page of the New York Post yesterday.
In all honesty, it's why you see the Statue of Liberty in a Yankees cap, along with her Philly counterpart, the state of Rocky Balboa adorned with a Phillies cap, on the front page of the Daily Times this morning.
Along with this headline: The Big Scrap-ple.
This is not just a couple of baseball games pitting the Phillies vs. the Yankees.
It's a faceoff of Philadelphia vs. New York City. It's the cheesesteak vs. the Reuben. The soft pretzel vs. the bagel.
It's about the opportunity for Philly, once and for all, to step out of the shadow of Gotham City.
Brace yourself, eventually, weather permitting, they may finally play some baseball tonight in Yankee Stadium.
Until then, expect the hype to be in permanent overdrive.
By the way, I agree with Jimmy Rollins, but I think it will take them one more game.
Make it Phillies in six.